754-900-5115 | M – F 8am – 8pm ET; Sat 10am – 4pm ET Apply Now
Applying will not affect your credit score.*
Industries We Provide Working Capital To
NOTE: These are only a few of the over 800 different types of small businesses we provide working capital to. Even if you don't see your industry listed, you should apply. We probably provide working capital to your industry as well.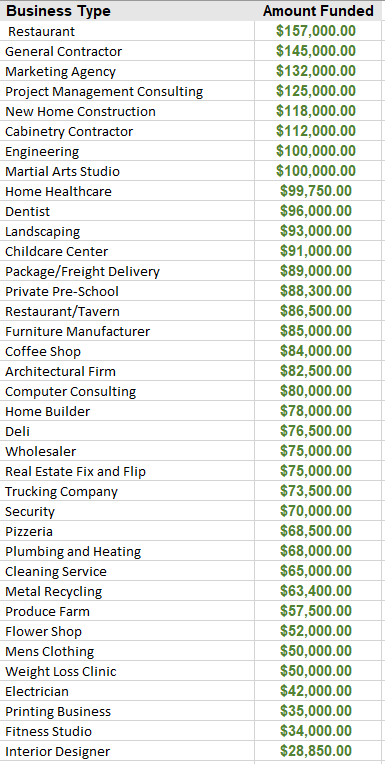 We Make Getting Working Capital For Your Small Business Fast & Easy!!
Since 2014, small business owners have been turning to Momentum Capital to obtain working capital for their business.
We understand no two businesses or business owners are alike and that's why we look at each scenario individually to ensure that our clients get the financing that fits with their businesses goals and needs. By looking at each business on an individual basis, we are able to approve many more business owners than our competition (about 95%).
We can provide working capital for business owners with bad credit history, newer businesses (at least 3 months old) and those businesses that perform well but can't show it with financial statements. Our financing terms can range from 3 months to 10 years!
We approve about 95% of our applications and are able to get our clients significantly more capital. It only takes a few minutes to apply and only 1 – 2 hours for approval. Apply Now!
In fact, after seeing the advantages we provide, more than 75% of our qualified clients renew their accounts with us. We understand the financing needs of businesses in various industry sectors and have the proven track record and resources to help your business succeed.
Working Capital for the Modern Business Owner
Our working capital loans were designed with flexible payback options so you can focus on the day-to-day needs of your business, and not worry about your next payment.
Get working capital so that you can solve problems fast and adapt with agility to the needs of your industry. Enjoy the ability to utilize the funds for virtually any business purpose. Apply online for funding today and find out how much you qualify for.
Driven By Technology
The true merit in the value we offer our clients is in the leading edge tools we employ. Our proprietary underwriting platform and application process can provide decisions in 1 – 2 hours and both help to form a simple financing solution 24/7 from the convenience of your computer or mobile device.
Apply Now
Applying will not affect your credit score.*
*For businesses organized as a limited liability company or corporation, we do not perform a hard credit pull at any point in our process, which means your credit score will not be impacted. For businesses organized as sole proprietors or general partnerships, we will only perform a hard credit pull after you receive and accept your offer.